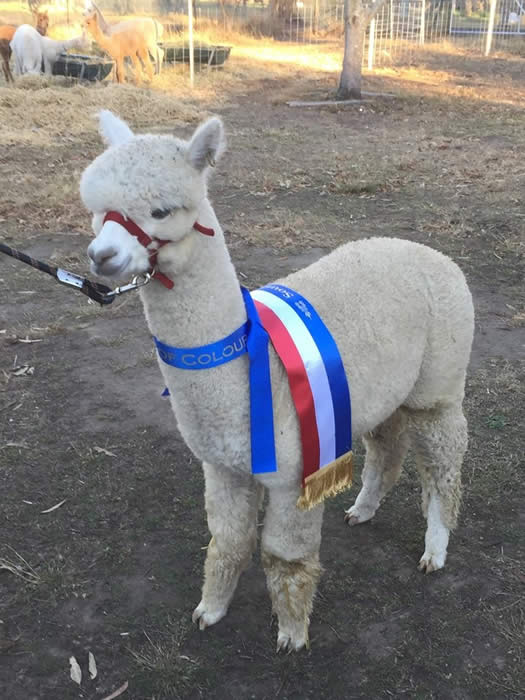 2016 Champion Male Coolaroo Capucci
Supreme Champion Coolaroo Magic Ice had a great 2015 Show Year

2014/2015 Alpaca Youth Camp - another raging success!

2013 Alpaca Youth Camp

The 2013 Alpaca Youth Camp on the 5th and 6th of October was another successful annual event.




The Inaugral 2012 Alpaca Youth Camp
2012 Year of The Farmer

On 12th October 2011, Sydney saw the launch of 2012, being named "Year of the Farmer". Coolawarra are exceptionally proud to be a part of this launch, representing the Australian Alpaca Association, joining the Governor General, Her Excellency Ms Quentin Bryce AC, which was attended by dozens of dignitaries and invited guests.
Two of our male alpacas (CH Coolawarra Bravissimo & CH Coolawarra Wilbathara Rising ET) were showcased at the event in representing Alpaca Farming, an emerging farming industry that continues to experience phenomenal growth around the country. Proud to be an active part of this initiative and the farming community generally, particularly as alpacas are fast becoming a very real alternative to traditional sheep and cattle farming, and there is even a developing quality meats market for this unique and versatile animal.
Photo: Jock Laurie - President of the National Farmers Federation, Andrew Forrest. - Ambassador for Year of the Farmer, and Janie Hicks-Forrest - Principal of Coolawarra.
Photo credit: Alice Slazak
'Getting Started' - Our ever popular workshops are held through-out the year. Dates are still to be allocated, but one-on-one mini workshops are always available. Please contact us, so we can keep you up to date should you wish to join us for a workshop.
BREEDING ALPACAS for the 21st Century View PDF
Archive News and Events Click here